Salve Quartet
$35.00
This is a set of our 4 Staple Salves. Step up your topical remedy game and be covered on all ends! You will receive 1 of each:
Description
You will receive a 1 oz. tin for each salve. A little goes a long way.
Related Products
Custom Order
Request a custom order or have something made just for you or someone special! Click here to get started!
not rated
Read more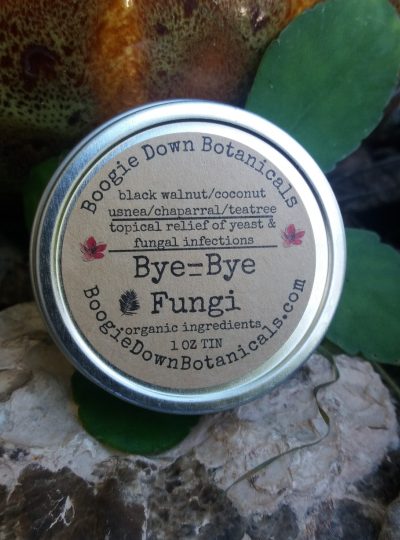 Bye-Bye Fungi Salve
A healing salve embodying some of nature's most powerful anti-fungal agents- black walnut hulls, unsea lichen, chaparral leaf and tea tree essential oil. Herbs are solar infused in organic cold pressed olive oil in addition to cold pressed coconut oil which also has anti-fungal properties.
Works wonderfully massaged into finger or toenails and will leave skin moisturized. May be used externally for various types of fungal or yeast infections, athlete's foot, jock itch, ringworm, or skin ulcers.
not rated
$

10.00
Add to cart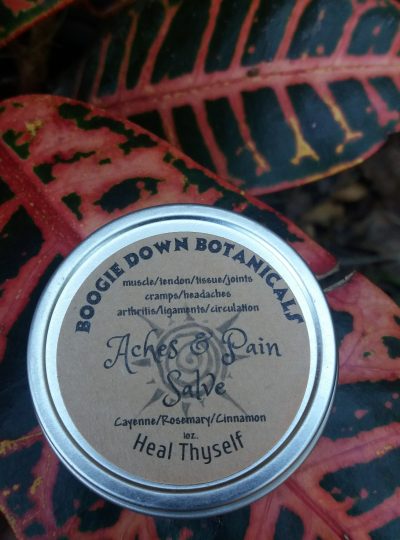 Aches & Pain Salve
Healing salve featuring cayenne, rosemary and cinnamon to bring warming relief and increased circulation to stiff joints and sore muscles. Can also be used to ease cramps of all sorts, sinus and migraine headaches, pain from diabetic neuropathy, arthritis and shingles. Rubs on smooth and has a warm spice like scent.
not rated
$

10.00
Add to cart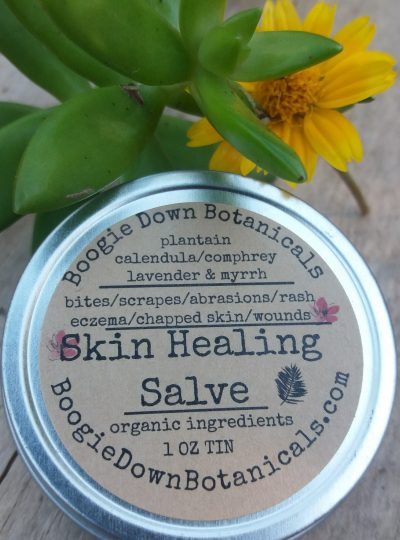 Skin Healing Salve
An all purpose skin healing salve featuring plantain, calendula, comfrey, lavender and myrrh. A first aid must have that's great for numerous skin imbalances and gentle enough for use as a baby balm.
not rated
$

10.00
Add to cart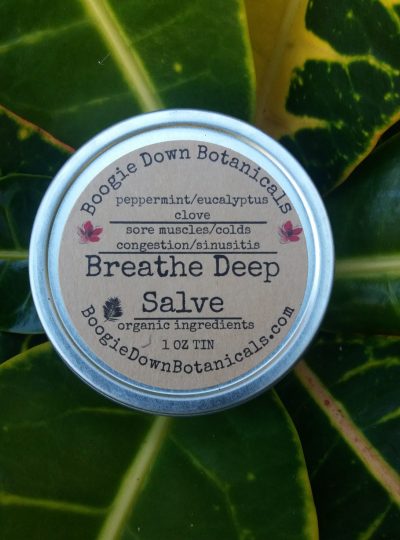 Breathe Deep Salve
Breathe Deep is a synergistic blend of 3 herbs: peppermint, cloves and eucalyptus. This salve is made by solar infusing organic cold pressed olive oil with the leaves of both peppermint and eucalyptus and whole cloves. Next, organic essential oils of all 3 herbs (peppermint, clove and eucalyptus) are added during last step.
This salve assists in opening up blocked pathways both physically and energetically. Think of a natural "Vicks Rub".
Apply to congested area or on soles of feet.
not rated
$

10.00
Add to cart