Salve Quartet
$35.00
This is a set of our 4 Staple Salves. Step up your topical remedy game and be covered on all ends! You will receive 1 of each:
Out of stock
Description
You will receive a 1 oz. tin for each salve. A little goes a long way.
Related Products
Sold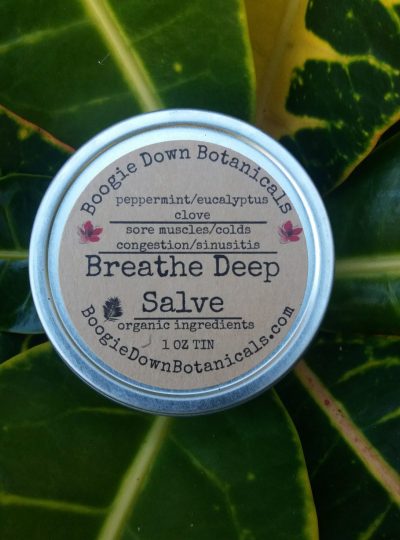 Breathe Deep Salve
Breathe Deep is a synergistic blend of 3 herbs: peppermint, cloves and eucalyptus. This salve is made by solar infusing organic cold pressed olive oil with the leaves of both peppermint and eucalyptus and whole cloves. Next, organic essential oils of all 3 herbs (peppermint, clove and eucalyptus) are added during last step.
This salve assists in opening up blocked pathways both physically and energetically. Think of a natural "Vicks Rub".
Apply to congested area or on soles of feet.
not rated
$

10.00
Read more