Knowing thy plant kingdom is knowing Thyself!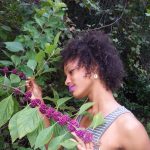 I am Martina! I'm a Community Centered Herbalist, an Educator, a Holistic Health Consultant and the mother of two beautifully spirited girls. Herbal healing was first introduced to me as a child by my Elders and Ancestors. Their lessons have stayed with me ever since. The home birth of my first child inspired me to really focus on the gifts that plant medicines have to offer. I started my formal herbal studies with Indigenous Remedies and was mentored by Master Herbalist Dr. Turtle in 2011. I lived in New York at the time, in the Bronx, which became my first grounds of plant exploration. As a student, studying in New York City was great! I was able to observe the plants through different seasons. I was immersed within a cultural melting pot that exposed me to many types of traditional healing methods. The plants, the people, the places, from borough to borough, is what sparked my interest in ethnobotany. Soon thereafter I moved down to Florida near family owned land where I currently reside and have been fortunate to reconnect with even more plant species native to a different climate. 

I also have a Bachelor's of Arts in Sociology with an emphasis in Health Science and Community Networking. I am a licensed teacher in the subject area of mathematics and I teach the Herbal Certification Program with Indigenous Remedies where I also serve as a student liaison. I am one of two hosts of a monthly herbal online talk gathering, "The Herbalist Lounge"... which is in its third season. My goal is to help restore plant medicine and the healing gifts of nature in its rightful place- with the people.

My sun sign is Cancer, my moon sign... Pisces. I love to help others and am a nurturer at heart. In addition to being a certified herbalist with 6 years of apprentiship experience, I recently received my certification as a holistic health and wellness consultant early this year in 2017. Within the healing work that I do, I combine my diverse background and education to assit others on their healing journeys. 

I honor and dedicate the work that I do to my Ancestors and the Divine, whom have paved and continue to open the way for me to do this healing work. The gift and wisdom of healing is within each and every one of us. It is an honor to be able to assist others in finding their own innate abilities to heal thyself. Peace, Power, and Green Blessings!
Boogie Down Botanicals is the Botanicals of the People! We have grown along side our plant allies from the beginning of time and they have nourished our evolution, lending their wisdom and healing. From the Boogie Down Bronx and througout the World Town... no matter your circumstances... there is a jewel to be discovered within the Botanicals. It can be that dandelion in the crack of the road or that mighty Oak that has withstood the most and has watched generations grow old. Maybe its that Ginkgo tree down in Central Park... or the Hawthorne trees whose white blossoms seem to glow in the dark. Shout out to the succulents in the Southwest and the dark blue and purple Elderberries of Florida, the Sunshine State. I love our herbal allies... make no mistake!