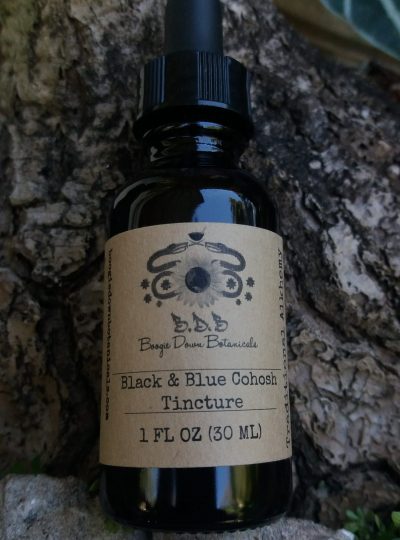 Cohosh Root Tincture
Midwives have used black and blue cohosh to induce labor for centuries. This tincture can be used to initiate labor, re-start a stalled labor, soften the cervix, and to expel the placenta. It an also be used to aid in the event of miscarriage. Both black and blue cohosh have stimulating AND relaxing properties which facilitate childbirth. It produces contractions which are regular and effective, interspersed with a good relaxation period.
Cohosh Tincture can also be used for painful periods, sore and inflammatory conditions of the reproductive tract, infections and lack of functional power in the uterus leading to infertility.
-All herbal extracts are macerated for at least one moon cycle for potency.
Benefits of tinctures: Tinctures can be taken quickly. Just a half teaspoon gives you a ton of the concentrated benefits of whatever herb you're using. Alcoholic extractions have a long shelf life and a dosage contains very little alcohol for those concerned. You may add tincture dosage to warm water or tea or take direcyly under the tongue.
Note: Not for use in early pregancy. It is very important that you discuss these herbs with your doctor or midwife before using them.
not rated
$

15.00
Add to cart